International Journal of Biotech Trends and Technology is an international, double blind peer-reviewed open access journal covering the full scope of biology , biotechnology, genetic engineering and various applied discipline. IJMTT is the flagship publication of Seventh Sense Research Group ( SSRG )®.
The primary purpose of the journal will be publishing high-quality original articles that make a significant contribution to the biotechnology research areas. This journal will be an efficient forum where the editors play a central role in soliciting the best research papers and where editorial decisions are reached in a timely fashion.
The core of the vision IJBTT is sharing the innovative ideas and current trends in mathematical science. In every year majority of the research works get lost due to lack of effective scientific archival systems but IJBTT provides speedy and effective archival system.
Benefits of IJBTT Authors:
Fast publication process.

High visibility.

" Digital Object Identifier (DOI) " number to each published article.

IJBTT provides " Hard copy of Journal and Certificate " to Authors.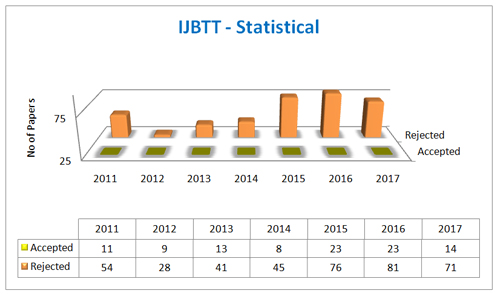 Authors Geographical Coverage : Nigeria, India, Japan, Bangladesh, Iran, Egypt, Malaysia, Iraq
Submit your article : This email address is being protected from spambots. You need JavaScript enabled to view it.
Frequency : Quarterly.
ISSN : 2249 - 0183.
Subject : Biotechnology and Biological Science.
Published By : Seventh Sense Research Group ( SSRG )®.