Aim and Scope:
International Journal of Biotech Trends and Technology – IJBTT is s a peer-reviewed, scholarly journal using a two-way anonymous peer review model publishes high-quality scientific articles (both theory and practice), reviews and perspectives on the applied biological sciences: useful science applied to, derived from, or inspired by living systems. The journal has a diverse audience that reflects its intentionally broad scope. Our readers include not only biologists but also engineers, chemists, pharmacologists, computer scientists, and physicians, and they work in academic, clinical, industrial, NGO, and governmental settings. Therefore, we emphasize accessible articles that are easy to read, and we encourage authors to keep in mind that many readers may not be familiar with their field's specific terminology.
The major themes that IJBTT is interested in include Bioprocessing (biochemical engineering, applied enzymology, industrial biotechnology, biofuels, metabolic engineering), Omics (genome editing, single-cell technologies, bioinformatics, synthetic biology), Materials and devices (bionanotechnology, biomaterials, diagnostics/imaging/detection, soft robotics, biosensors/bioelectronics), Therapeutics (biofabrication, stem cells, tissue engineering and regenerative medicine, antibodies and other protein drugs, drug delivery), Agroenvironment (environmental engineering, bioremediation, genetically modified crops, sustainable development). We particularly seek articles that are relevant to more than one of these themes. Additionally, we welcome articles on law and intellectual property, policy and regulation, bioethics, scientific communication, and the economics of biotechnology.
Reviews of mechanistic or phenomenological biology are generally not within IJBTT's scope, although we do consider reviews of technologies developed from basic biology as long as there's an application in mind.
IJBTT is the flagship publication of Seventh Sense Research Group ( SSRG )®.
Benefits of IJBTT Authors:
Fast publication process.

High visibility.

" Digital Object Identifier (DOI) " number to each published article.

IJBTT provides " Hard copy of Journal and Certificate " to Authors.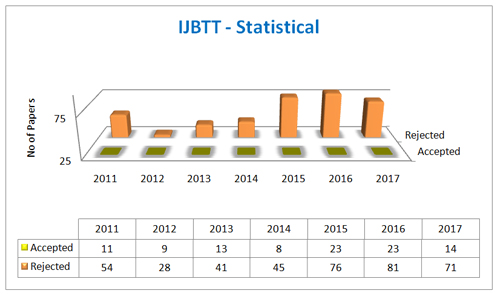 Authors Geographical Coverage : Nigeria, India, Japan, Bangladesh, Iran, Egypt, Malaysia, Iraq
Submit your article : This email address is being protected from spambots. You need JavaScript enabled to view it.
Frequency : Quarterly.
ISSN : 2249 - 0183.
Subject : Biotechnology and Biological Science.
Published By : Seventh Sense Research Group ( SSRG )®.